Several factors impact the final pricing of website development. Your website designers in Melbourne will break down the details and analyse the different costs that influence the website costs. While it is difficult to ascertain the actual expenses at the start, developers can prepare an approximate budget before starting with the website development.
Whether you're launching a new business and need a website to go with it or you feel it's time to upgrade your website to attract more customers and keep up with the competition; one of the things that are, no doubt, on your mind is the cost.
Understanding the costs and budgeting accordingly is key when taking on a large business project like this. And it's also important to understand the sacrifices that are necessary to make when looking to cut costs during the building of your website. You can find out about the costs of building a website in Australia below.
8 Steps to Building a Website
Planning and Preparation
There's a lot of planning that has to be done before you (or a professional) set to work building a new website. Your requirements and specific priorities will need to be outlined so they can later be communicated to the professionals you work with. It might also make sense to put a project manager in place to oversee the planning and preparation process.
Site Structure
The structure of the site refers to how your whole site links together and how the various pages connect. That's important from a user experience point of view. Without considering this aspect of website design, you'll end up with a site that's difficult to navigate for visitors.
Content Writing
Content writing is another part of the website you'll need to cover and pay for if you're going to take your new website to the level where you want it to be. Your site needs: content in the form of an About Page, landing page content, product descriptions or whatever it is you're trying to offer to visitors.
Graphics and Media
One of your aims will, no doubt, be grabbing and keeping hold of the attention of your site's visitors. In order to do that, you need to make use of strong graphics and relevant examples of media that are incorporated into the site's design.
Design
Working with a web designer is another cost that will need to be covered. A good designer will create a design that not only looks great but also aids a positive user experience. They'll focus largely on the aesthetic side of the site though.
Development
The job of the developer or developers you hire to work on your website is to take the design that's been prepared and turn it into a functional website. These are the professionals responsible for delivering your new website's functionality.
 Testing
The testing phase is important because you need to know where problems lie in the site's code ahead of the official live launch. This will help to make sure that your site's user experience is up to the professional standards of the web so visitors don't have to deal with frustrating problems.
Maintenance
In terms of regular, ongoing costs, you'll first need to find a hosting service you can rely on, as well as covering ongoing maintenance costs. Things like domain name renewals, SSL certificates and security software will need to be budgeted for.
The Various Cost Levels
A Simple Static Website – $1000-$2500
For the most basic website, set up will usually cost around $1000, but a website such as this will be static and have a very limited number of pages. These kinds of websites are good for conveying limited amounts of written content and information, but not much more than that.
A Website that Will Attract Traffic and Encourage Conversions – $2500-$5000
For a more advanced website that can convert customers and create conversions, you'll be looking at spending more than $2500. This type of site should be able to attract traffic and push visitors towards conversion, and that costs a little more money.
An eCommerce Website – $3500-$12000
A fully advanced eCommerce platform will require a little more in terms of functionality. Complete and efficient gateways for processing payments and dealing with large product databases makes a website more expensive to develop. Things like pop-ups and upselling techniques can also add to the cost.
Custom Site with Advanced Functionality – $12000+
Websites that require more advanced levels of functionality, such as portals for users and clients, complex backend systems and customer tools and functionality tend to cost in excess of $12000. These are the kinds of websites usually built by large businesses with complex and quite specific requirements.
Factors Influencing the Cost of Your Website
The Number of Pages
One of the major things that'll impact the costs of this project is the number of pages needed to create a website that meets your requirements. For every extra page required, there's extra design work, more testing and more complex SEO considerations that need to  be made.
The Level of Customisation
Businesses that are happy with a templated design and a simplistic approach to development can get away with spending less money on their website. However, those kinds of websites also come with obvious limitations. A website with a greater level of customisation in place will be more expensive to put together.
The Type of Content
The type of media and content used on your website will also impact the cost. If you want to take bespoke photos or video content, that will obviously add to the overall costs. The more skilled professionals you need to hire throughout the process, the more money you'll need to spend.
SEO Needs
If you want to make sure that your website is easily found by your target audience via search engines, it'll be necessary to put some money into SEO. Improving your ranking and ensuring your pages can be crawled by search engine algorithms is something that is vital in this day and age. This can be a costly process when done right.
Additional Features and Functionality
Any extra and/or custom forms of functionality or the addition of niche features will, again, push the cost of creating your website up further. As we've discussed above, this might include things like payment systems, client portals or content that's gated to specific visitors. Every website is unique, you'll likely have some particular features or functions that you have in mind.
Contact us now for more information
So, how much does a website for a business cost in 2022?
Let's find out.
There are two reasons why it is complex to determine the cost of a website:
Websites are different in terms of design and functionality. An experienced website designer will charge a good sum for designing a website whereas some people employ automated website builders to design their websites. The costs vary significantly in both cases.
The rate of a website design in Melbourne varies from agency to agency. An Australia-based company with expertise and trained personnel will charge you very differently than an overseas provider or a new company. But even in Australia, pricing can vary depending on the features and functionalities offered by the web agency.
A brand or business preferences and requirements also determine the cost of your website. Before finalizing a web designer in Melbourne, ask around and compare the rates with other agencies and previous clients. If you aren't very familiar with the web design agency costs in Melbourne, the pricing can be complex and confusing.
If you focus just on low prices, cheap website builders may be easily available. However, a well-designed website is the most powerful tool in the age of digital marketing. Business owners must never compromise on quality and select a reputed web design agency to design their website.
The average cost of building a website
Usually, the cost to build a website includes costs of launch and design along with routine website maintenance charges.
Here is a breakdown of the different aspects of developing a website.
UX Design
Design is a huge factor owing to the success of a website. A poorly designed website will seldom be liked by the audience. Customers prefer visiting a website due to its high-quality interface design, easy browsing and buying options. Bad design compels users to leave and never come back.
UX/UI design costs are important costs that ascertain the final price of the website development. The three stages of design include:
Research- This step starts with identifying the target audience, studying their preferences, and monitoring competitor behaviour, their products and the latest offerings.
Wireframe- Creating a wireframe with a tentative placement of elements. Discuss it thereafter with the client for their approval.
Prototype– Creating the final interface for trial runs on different devices. Web designers in Melbourne run prototypes to determine what the end-user wants efficiently and cost-effectively.
Front-end Development
The front end is the interface that your users visually interact with on your website. The fields, icons, buttons, font and colours, animation, and so on. Your web designer in Melbourne will start developing the front-end once the UX design is complete.
The two main considerations of cost at this stage are:
Responsive design
The complexity of graphics and animation used
Back-end development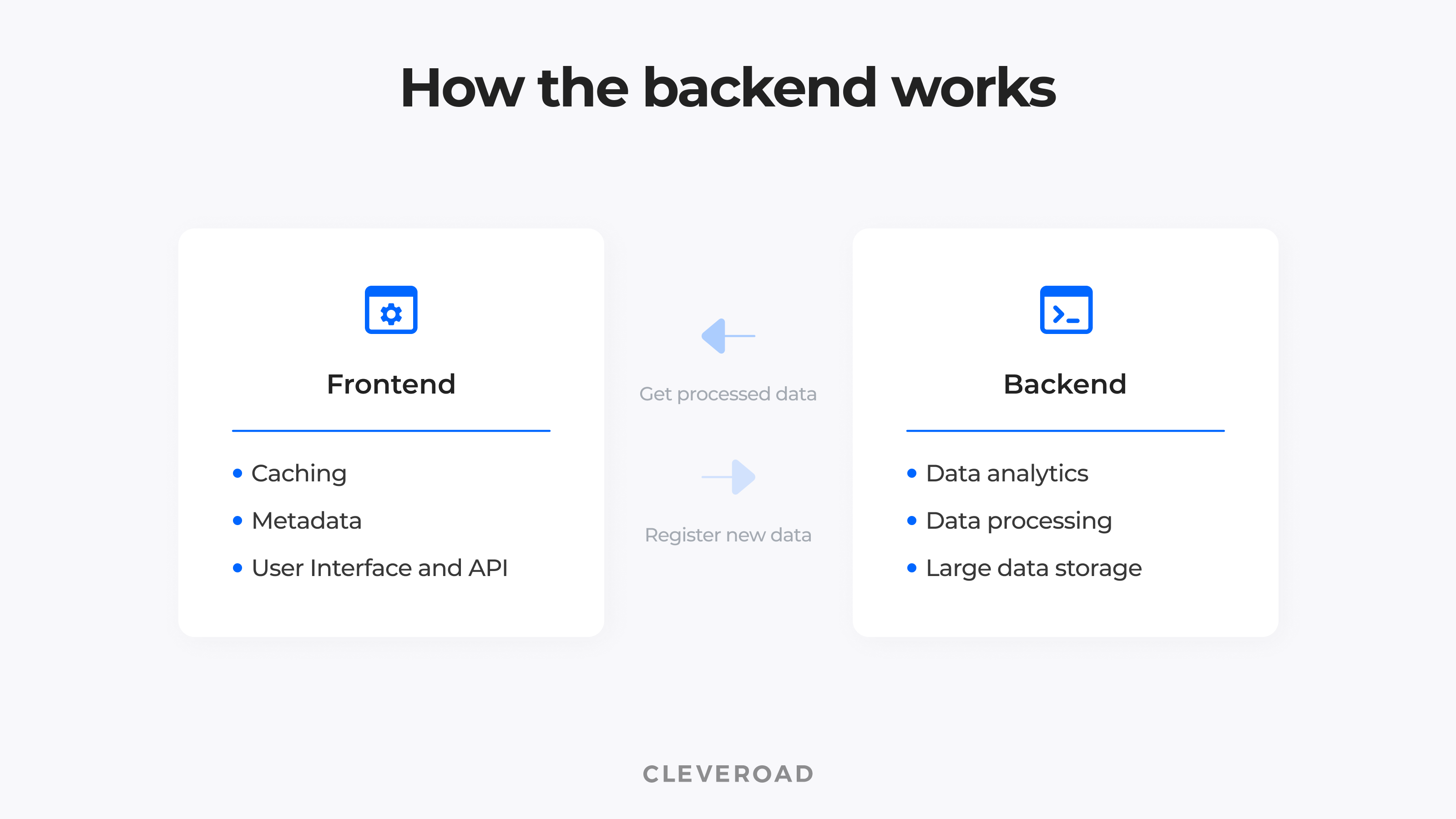 https://www.cleveroad.com/images/article-previews/3fff239b75ec4b75b90a8906118c1c5513b03b03cd5cef98f2c2d4e598b04d30.png
Let's say the front end of your website is complete. However, when you click on any of the buttons, there is no action/response. This is because the back end is not ready. The backend powers the website with its features and functionality.
This aspect of website design involves significant time and effort. It is influenced by factors like integration with third-party services, complex functions requiring elaborate coding, queries, data processing, and more.
Admin panel development
Also, known as a content management system, the Admin Panel development allows the website owner to create, manage, and edit website content. Once the developers hand over the website, you can make changes to the website content from the admin panel.
Several CMS providers like WordPress, Wix, and Shopify offer built-in designs that are cost-effective as well as substantially cuts down on the development time. They are flexible and easy to set up. They are, however, limited in functionality as they have a standard design and interface. For websites requiring complex functions and detailed designs, WordPress does not come in handy. Also, when we speak about security, it is easier to hack a WordPress website than a custom-built design.
Apart from the above, the website costs differ in every region. The costs depend upon the experience and work quality of the outsourcing web development team or freelancers.
You can build a website in the following ways:
When you decide to get a website for your business, you can choose any of the above methods.  The method you select will determine the cost of website development. For example, creating a website might be free with a web builder, but can cost more if you hire the services of a web designer.
Website builders are economical ways of building a website. However, you will get inbuilt designs, interfaces and standard concepts. On the other hand, WordPress is a free, open-source platform, you have to incur the costs of hosting, themes, and plugins. For extensive WordPress services in Melbourne, professional help may be needed from a developer, adding to your costs.
Hiring the services of a competent web designer is the most expensive option. But if you are looking for creative designs with customised options, this should be your pick. Customers get impressed by the high-quality design and seamless browsing features. Google also ranks websites higher with custom-built designs.
Moreover, if you need absolute control over the features and build, go for a website designer. They offer advanced levels of complex functionality with simple interfaces that are easy to navigate.
Wrap-up
Web design pricing in 2022 varies from agency to agency. It depends on the quality of services, timeline, the experience of the web designer, tools and technology applied, to name a few. Before hiring a website developer in Melbourne, walk through all the options, and check for reviews and previous quality of work. For professional website services in Melbourne and surrounding areas, do get in touch with our team of expert web designers.